Programs
We currently offer lessons on Piano and Guitar in our studio.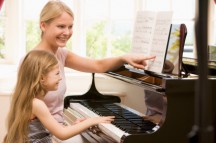 The Piano Studies program at Goldens Bridge Studio provides comprehensive training to children ages 3.5 and older. Our unique approach combines the best of traditional teaching methods with cutting edge pedagogical systems such as the Suzuki Method. Our instructors are all highly trained professional musicians with a passion for teaching. Our students regularly achieve perfect scores in local and national competitions, and gain a love of music and performing.
While each instructor has their own individually developed curriculum and set of books & teaching materials that they use, all students are encouraged to follow the RCM (Royal Conservatory of Music) progression of technique and repertoire, so that they will be qualified in the event that they wish to enroll for the Music Development Program exams.
The Piano Studies curriculum covers all aspects of piano playing including repertoire, technique, and sight-reading as well as important subjects such as music theory, ear-training, music history, rhythm training, and general musicianship. More advanced students in theory can take the MDP theory exam.
---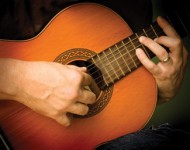 The Goldens Bridge Studio program in Classical Guitar Playing is a comprehensive method for learning guitar that is appropriate for beginners ages 4 and up. Similar to traditional piano lessons, all Classical Guitar students learn basic musical skills through reading, theory, and correct playing habits. Features of the program included several yearly recitals, group classes and performances, and optional participation in local, state and international festivals, competitions, and examinations.
As an RGT/London College of Music accredited teaching institution, enrolled students have access to yearly examinations which provide an internationally recognized qualification and record that is useful for gaining entry to higher education in the U.S. and abroad.
---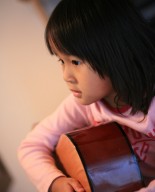 Our Suzuki Guitar program is a curriculum designed for teaching guitar to children ages 3.5-12. Skills developed in the program include ear training, theory, sight-reading, and instrumental technique. Unlike traditional music lessons, where the parents have little or no involvement with their child's lessons, children in the Suzuki guitar program learn the instrument with the help of a dedicated home teacher: the mother, father or guardian, who practice with the child, and attend all lessons and classes. The home teacher is trained prior to the start of the child's lessons.The Suzuki method relies heavily on the 'mother tongue' approach, meaning that children can acquire a language by being immersed in an environment that fosters its acquisition. Music is understood by the brain as a language also, therefore children learn music by being immersed in an environment where the pieces they are learning are being played by the parents, as well as being heard from a CD, in the car or at home. Children begin by learning the material without seeing written music. Reading notes with the instrument is postponed until the basic playing technique is mastered. For children in the Suzuki guitar program, learning the guitar is as effortless as it was to learn their native language, provided the environment is carefully fostered according to the teacher's instructions. For the children in the Suzuki guitar program, practicing is a game that they look forward to every day.

At home and during lessons and classes, parents must pay constant attention to correct posture and proper arm, hand and finger placement as well as the production of beautiful tone. The music children learn in the Suzuki guitar school is standardized and carefully sequenced by a committee of professional guitarists. Each piece prepares the student for the next. In addition to the core repertoire, children learn pop songs, movie themes, and anything else that they have an interest in.
---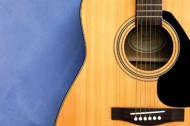 The Goldens Bridge Studio Acoustic Guitar syllabus is an expertly structured and comprehensive method of studying acoustic guitar. The syllabus is centered around the RGT Acoustic Guitar Playing course, supplemented with the student's repertoire of choice.
Skills developed in lessons include chords, scales, strumming patterns, fingerstyle studies and attractive well-known melodies, plus an emphasis on musical knowledge, accompaniment playing and aural exercises to develop your musical abilities. Note reading, songwriting, alternate tunings and rhythm skills also play an important role in the Acoustic Guitar syllabus.
Students will need either a nylon or steel string guitar, of the appropriate size for their age, height and body size.
---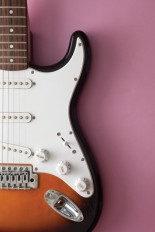 The Goldens Bridge Studio program in Electric Guitar is a comprehensive course of study that includes instruction in all aspects of electric guitar playing, from rhythm, to lead, to ear training and beyond. Our syllabus is based upon the Registry of Guitar Tutors Electric Guitar Playing syllabus, and all enrolled students are eligible to take the RGT exam, and earn internationally recognized achievements, accredited by the London College of Music.
Besides providing a solid musical foundation, all students have the opportunity to learn the repertoire that they are interested in. We have an extensive collection of guitar music in TAB (over 5,000 songs), as well as a comprehensive music collection. Using state-of-the-art software, such as Amazing Slow Downer, student's are provided with highly accurate transcriptions of the songs of their choosing.
Students scoring 75% and higher on their RGT exam are eligible to take part in our annual Rock Concert, where a full band is provided and students are able to gain experience performing on stage in a live situation.
More advanced electric guitar players may opt to learn jazz. Beginning with RGT grade 6 and beyond, the skills we learn in electric guitar are very closely associated with Jazz, and include reading jazz chord charts, scales, modes and arpeggios. Further studies in jazz history, repertoire and improvisation may be included for those guitarists auditioning for NYSSMA, All-State Jazz Band, or for those interested in auditioning for music school or a conservatory.
---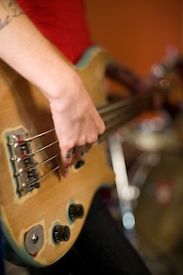 Our program in Electric Bass is suitable for teens, adults, and kids ages 13 and older. Skills developed include reading, improvising bass lines, following chord charts, scales and arpeggios (and how to use them), modes, and technique. Students are encouraged to further develop specialized areas such as funk/slap, jazz, pick-style based on their musical proclivities.
All Bass students are eligible to take RGT Electric Bass exams which are a great resource and driving force for progress in all areas of musical development including ear-training, reading, improvising, and fretboard knowledge.
---