Acoustic Guitar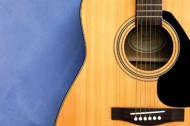 The Goldens Bridge Studio Acoustic Guitar syllabus is an expertly structured and comprehensive method of studying acoustic guitar. The syllabus is centered around the RGT Acoustic Guitar Playing course, supplemented with the student's repertoire of choice.
Skills developed in lessons include chords, scales, strumming patterns, fingerstyle studies and attractive well-known melodies, plus an emphasis on musical knowledge, accompaniment playing and aural exercises to develop your musical abilities. Note reading, songwriting, alternate tunings and rhythm skills also play an important role in the Acoustic Guitar syllabus.
Students will need either a nylon or steel string guitar, of the appropriate size for their age, height and body size.