Electric Guitar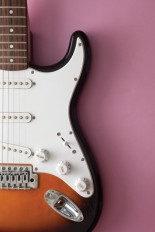 The Goldens Bridge Studio program in Electric Guitar is a comprehensive course of study that includes instruction in all aspects of electric guitar playing, from rhythm, to lead, to ear training and beyond. Our syllabus is based upon the Registry of Guitar Tutors Electric Guitar Playing syllabus, and all enrolled students are eligible to take the RGT exam, and earn internationally recognized achievements, accredited by the London College of Music.
Besides providing a solid musical foundation, all students have the opportunity to learn the repertoire that they are interested in. We have an extensive collection of guitar music in TAB (over 5,000 songs), as well as a comprehensive music collection. Using state-of-the-art software, such as Amazing Slow Downer, student's are provided with highly accurate transcriptions of the songs of their choosing.
Students scoring 75% and higher on their RGT exam are eligible to take part in our annual Rock Concert, where a full band is provided and students are able to gain experience performing on stage in a live situation.
More advanced electric guitar players may opt to learn jazz. Beginning with RGT grade 6 and beyond, the skills we learn in electric guitar are very closely associated with Jazz, and include reading jazz chord charts, scales, modes and arpeggios. Further studies in jazz history, repertoire and improvisation may be included for those guitarists auditioning for NYSSMA, All-State Jazz Band, or for those interested in auditioning for music school or a conservatory.