Piano Studies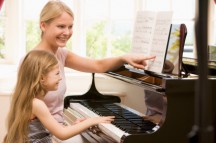 The Piano Studies program at Goldens Bridge Studio provides comprehensive training to children ages 3.5 and older. Our unique approach combines the best of traditional teaching methods with cutting edge pedagogical systems such as the Suzuki Method. Our instructors are all highly trained professional musicians with a passion for teaching. Our students regularly achieve perfect scores in local and national competitions, and gain a love of music and performing.
While each instructor has their own individually developed curriculum and set of books & teaching materials that they use, all students are encouraged to follow the RCM (Royal Conservatory of Music) progression of technique and repertoire, so that they will be qualified in the event that they wish to enroll for the Music Development Program exams.
The Piano Studies curriculum covers all aspects of piano playing including repertoire, technique, and sight-reading as well as important subjects such as music theory, ear-training, music history, rhythm training, and general musicianship. More advanced students in theory can take the MDP theory exam.